Centre
Information
Centre Hours
Sunday

9:00am - 5:00pm

Monday

9:00am - 6:00pm

Tuesday

9:00pm - 6:00pm

Wednesday

9:00am - 6:00pm

Thursday

9:00am - 6:00pm

Friday

9:00am - 6:00pm

Saturday

9:00am - 6:00pm
Holiday Hours
Specialty Stores
Daruma Ramen

Monday

11:00 am – 9:00 pm

Tuesday

11:00 am – 9:00 pm

Wednesday

11:00 am – 9:00 pm

Thursday

11:00 am – 9:00 pm

Friday

11:00 am – 9:00 pm

Saturday

11:00 am – 9:00 pm

Sunday

11:00 am – 9:00 pm

The Sushi & Don

Sunday

10:00 am – 6:00 pm

Monday

10:00 am – 6:00 pm

Tuesday

10:00 am – 6:00 pm

Wednesday

10:00 am – 6:00 pm

Thursday

10:00 am – 6:00 pm

Friday

10:00 am – 6:00 pm

Saturday

10:00 am – 6:00 pm

Warehouse Stationery

Monday

8:00 am – 8:00 pm

Tuesday

8:00 am – 8:00 pm

Wednesday

8:00 am – 8:00 pm

Thursday

8:00 am – 8:00 pm

Friday

8:00 am – 8:00 pm

Saturday

8:00 am – 8:00 pm

Sunday

8:00 am – 8:00 pm

The Warehouse

Sunday

8:00 am – 8:00 pm

Monday

8:00 am – 8:00 pm

Tuesday

8:00 am – 8:00 pm

Wednesday

8:00 am – 8:00 pm

Thursday

8:00 am – 8:00 pm

Friday

8:00 am – 8:00 pm

Saturday

8:00 am – 8:00 pm

GoodFor

Monday

10:00 am – 4:00 pm

Tuesday

10:00 am – 4:00 pm

Wednesday

10:00 am – 4:00 pm

Thursday

10:00 am – 4:00 pm

Friday

10:00 am – 4:00 pm

Saturday

10:00 am – 4:00 pm

Sunday

10:00 am – 4:00 pm

Sunday

–
Getting Here
87 Lunn Avenue, Stonefields, Auckland, New Zealand
Stoneridge on Lunn is conveniently located in the Lunn Ave shopping precinct on the corner of Lunn Avenue and Ngahue Drive, just 4 mins (1.8km) off the Ellerslie – Panmure Hwy/Urban Route 5. The convenient and central location makes it a breeze to get here, whether it be by car, bus, taxi, bike, or foot.
Get Directions
Parking
Parking at Stoneridge on Lunn is very easy and convenient with over 386 car parks on-site.
There are two entrances – one off Lunn Avenue and one off Ngahue Drive.
While shopping at Stoneridge on Lunn you can enjoy two hours (P120) of free parking so feel free to stay awhile.
Mobility Parking
For those with a mobility pass, we have 10 mobility parks conveniently located within three key carparking areas, at the entry to The Warehouse, outside Tank and near Sushi & Don. The centre is a flat site designed with wide footpaths and is therefore wheelchair friendly.
Parents' with Prams Parking
For your convenience and safety we have dedicated parents' with prams parking available. Our parents' with prams parks are located to the right of The Warehouse entrance lobby and near Sushi & Don.
Baby Changing facilities
For your convenience, we have two baby changing facilities located in the unisex accessible toilets located in Zone C next to Daruma Ramen.
Bike Racks
Cyclists are welcomed at Stoneridge on Lunn with free bicycle racks located at the centre.
Free WIFI
Free customer Wifi is now available.
Here's how you will be able to connect once you have arrived at Stoneridge on Lunn:
Ensure your wireless enabled device has its wireless signal activated.
Select @StoneridgeonLunn from the list of available networks
Enter your details on the welcome screen and accept the terms and conditions to access our FREE Wifi network.
And that's it, you're in and ready to go. Coverage is provided while visiting the Stoneridge on Lunn only. Take note, this public access free WIFI service is not encrypted so please ensure services like banking, email and social networking sites have security. T&C's apply.
Recycling
Recycling is important to us at Stoneridge on Lunn. Please show your love for our beautiful country and your new neighbourhood centre by recycling your aluminium cans, plastic bottles, cardboard and paper based rubbish in the yellow recycling bins provided.
Centre Map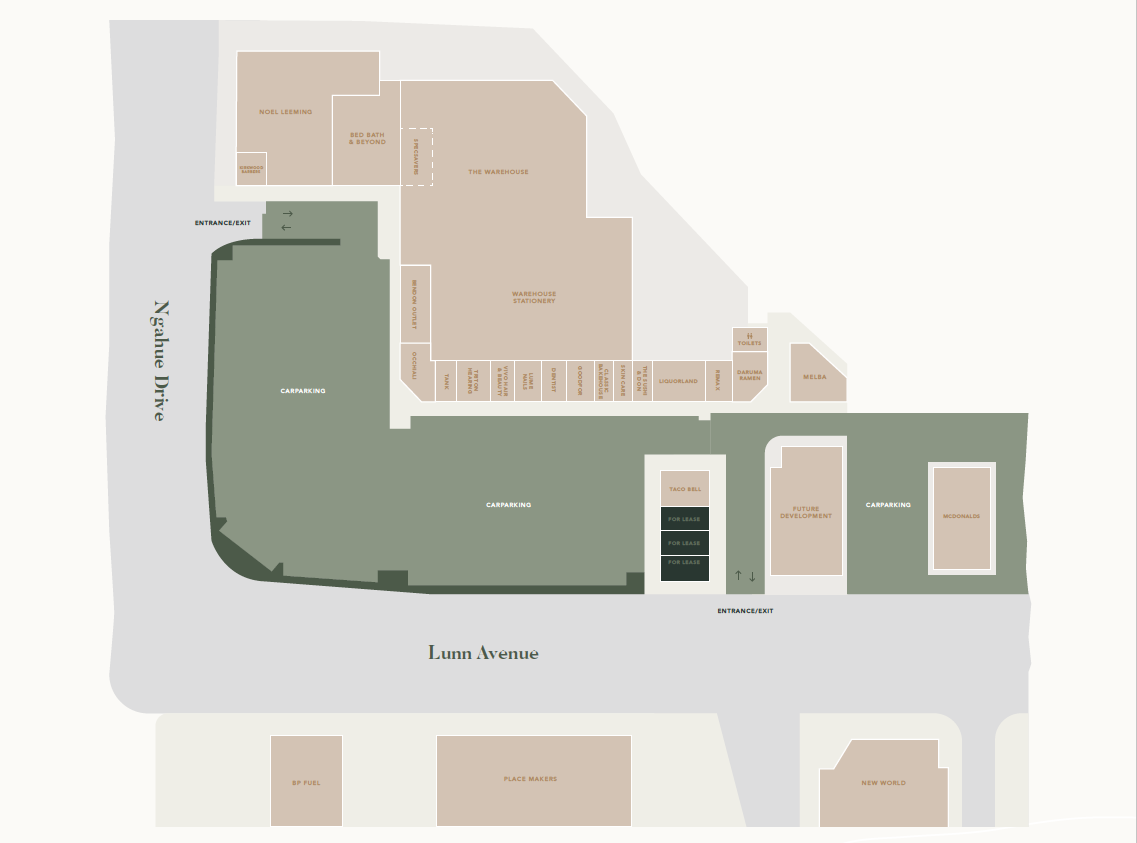 Download PDF
Smokefree
Stoneridge on Lunn is a smoke-free site. When you are visiting our centre, please ensure you are not smoking or disposing of cigarettes.